The following article will break down our recommendations for how to use Lever to the best of its abilities. The better you optimize your ATS, the more insights DreamTeam can provide you.
Account Setup
Departments and Teams
Have at least one Department
Have your Teams nested under their relevant Departments
Link your job postings to the specific Department and Team
DreamTeam provides filtering capabilities and breakdowns, including on the Department/Team field, where filtering a specific department includes the data of the nested Team(s).
Locations
Have at least one Location
DreamTeam provides filtering capabilities and breakdowns, including on the Location field.
Requisitions
For insights relating to job openings such as time-to-fill, unfilled openings and more:
Create requisitions with the correct amount of openings (can be 1 or more, or even unlimited for your evergreen job positions)
Link all job postings to their relevant requisition
Offers
Have the following set of fields be set as required:
Anticipated start date (for insights relating to hires onboarding)
Requisition (for insights relating to job openings)
Feedbacks
For insights relating to feedbacks, such as interviewer calibration:
Set the Rating question as required in all the feedback forms
Make sure feedbacks are always submitted for interviews and CV screens
The Rating question is added to all your feedback templates by default, and it cannot be removed. By setting it as required, you make it impossible for your interviewers to submit feedback without the Rating part – and by that keeping your data full and honest.
Archive Reasons
Lever has the notion of Archive Reason, which comes with no classification to the higher-level categories (hired / rejected / withdrawn) that is important for DreamTeam to analyze your data. Hence, DreamTeam classifies these reasons automatically. However, some archive reasons can be too customer-specific making the classification quite ambiguous – raising the chance for mistakes.If your Lever account has more Archive Reasons than the ones available by default, you can send us your version of interpretation of how to classify each of the archive reasons to the main categories.
Day-to-day workflow
Offers
For insights relating to offer acceptance rate and the core analytics capabilities:
Always create an Offer in Lever
Update the offers when they are accepted / rejected by the candidate
If you manage the offer outside Lever, this is fine, you can still create an offer in Lever and then mark it as "managed outside Lever"
Interview Scheduling 
There are two recommended ways that you can schedule an interview through Lever, and have the correct data saved and reflected on DreamTeam: 
1. Candidate level
2. Easy Book 
Candidate level:
Each candidate page allows you to schedule the next interview directly from their page. If you click on "schedule"
(see screenshot below), the following pop-up will appear:
Here you can pick from the list of hiring managers and schedule a meeting without ever needing to leave Lever. 
The system will even tell you if the hiring manager has a potential scheduling conflict. Be sure to pick the correct interview stage before scheduling the interview.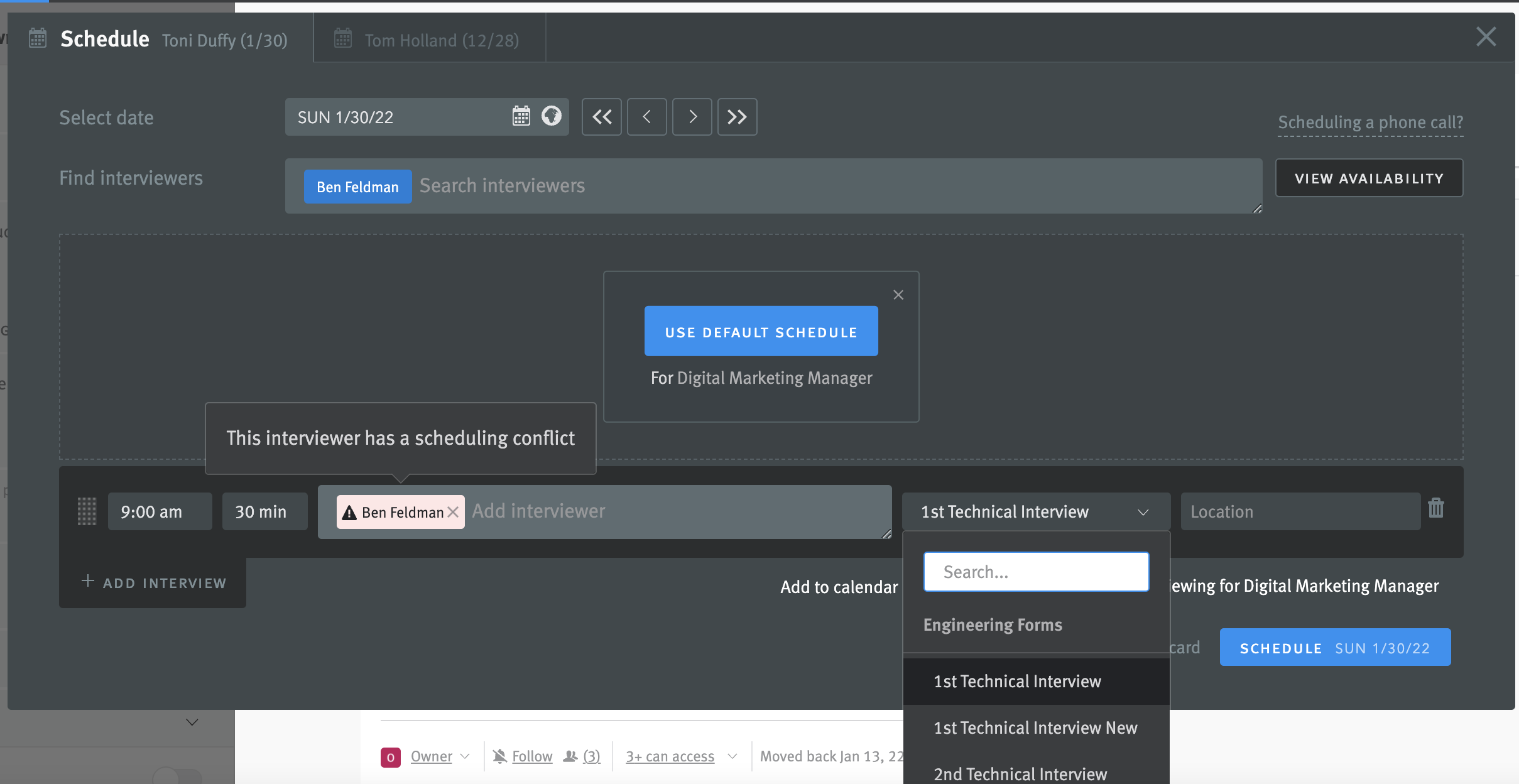 The other option is Easy Book. Easy Book can be found in the "more" section of the top banner.
Here you will be able to create a link for the candidate to receive, and find time on your schedule – This can help preventing multiple back and forths with the candidate to find the right time that suites everyone. 
To learn more about Easy Book – feel free to look at a knowledge base article created by Lever – Lever – Easy Book article 
Source Tags
Lever documents the origins of the candidate through Source Tags. You can add these source tags manually in the candidate page. 
DreamTeam only uses the first tag for all of the insights – so make sure that unwanted tags are removed.To automatically tag a candidate that originated from a specific source, Super Admins are required to assign a default agency source tag when adding an agency for the first time in Lever.
Candidates submitted through the agency job site moving forward will automatically have the default source tag, as well as the "Job site" tag, applied on the candidate profile. 
This helps ensure consistency across all candidate submissions for better reporting accuracy and prevents different variations of similar agency tags from being created in Lever.
Stages
Lever comes with a built-in list of stages, which are global to the whole account, affecting all jobs. It's not possible to have a different list of stages for different job postings.
In general, the list of stages contains few anchors, such as applicant-new, offer and few more relating to the lead stages. These anchors are really important as they signify if a certain opportunity is an actual job application (if the opportunity is beyond the applicant-new anchor stage) or if an application reached the offer stage (if the opportunity is at the offer anchor stage). Some customers have a custom list of stages, after they have asked Lever specifically to alter the list, and if that happens – we need to make sure that the anchors keep their meaning.For example, if the offer anchor-stage gets a new nickname called "Offer in editing", then it would be impossible for us to conclude correctly if a certain application is in Offer (essentially).
Anchor stages are ordered correctly
No stages after the offer anchor stage
Anchor stages have the correct meaning (according to their nicknames)